The Kirk

Reconstruction

Windows

Bronzes

Eye for Detail

The Trust

Membership

Activities

Links

Credits

Contacts




The Windows
Many things go to make Kippen church one of the most beautiful and interesting in Scotland. But perhaps the feature that most sets it apart is its remarkable collection of stain glass windows. Captivating individually, collectively the windows give the interior a breathtaking depth of colour.

The most notable Scottish stain glass designer of the first half of the 20th Century was Herbert Hendrie of Edinburgh who is especially renowned for his contribution to Liverpool's great Anglican cathedral. However, perhaps the finest exhibition of his work in one building is in Kippen where he was responsible for no fewer than fifteen superb windows constructed in the years around 1930.

The building already contained some interesting late 19th century glass, which was mostly retained, but Hendrie's windows moved the display up to a level that can stand comparison with the finest work of the medieval glass painters. Some of the windows, such as the magnificent west window by the pulpit or the equally superb Childhood and Motherhood windows directly opposite, are large and rich in detail and colour, the latter having been likened in texture and appearance to crushed jewels and mother of pearl. Others, such as the exquisite lancets in the prayer chapel, are small, but no less memorable.
Detail (the Three Kings) of the
'Adoration of Childhood' (1935)
window by Herbert Hendrie

Detail of the
'Gratitude for Motherhood' (1935)
window by Herbert Hendrie
What was begun by Hendrie was, of course, continued in more recent years by the addition of other windows, notably in 1972 when Flowers of all Season on the west wall was completed by Gordon Webster of Glasgow. Given the quality of the work on either side, the best compliment that can be paid to Webster is that his modern design looks perfectly in place. Other interesting relatively recent works are the two lancet windows located by the side door, constructed by John Clark and, in one case, designed by Dr Willie Rodger.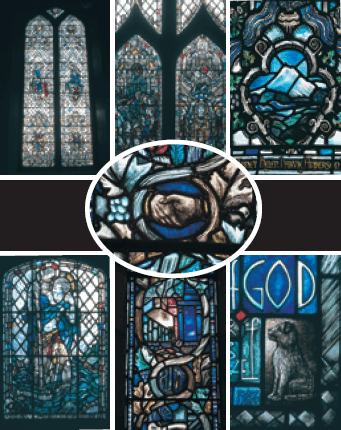 Top left: Detail of the 'Cameron' (1933) window by Herbert Hendrie, commissioned by Sir D.Y. and dedicated to the memory of Lady Jean Cameron.
Top middle: 'The Triumphal Entry' and the 'New Jerusalem' (1930) window by Herbert Hendrie and dedicated to Archibald Colville of Arngomery.
Top right: Detail of 'the Good Shepherd' (1926) window, by Herbert Hendrie.
Bottom left: 'St. Christopher' (1931) window, by Herbert Hendrie.
Bottom middle, right and centre: Details of the window (1985), by Willie Rodger and John Clark and dedicated to the memory of James Carmichael of Shirgarton.